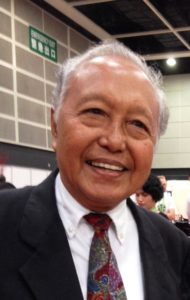 Tito E. Contado, Ph.D.
Agricultural Extension and Rural Development, Cornell University, Ithaca, New York;
MSc. Major in Agricultural Education, Minor in Animal Science at UP College of Agriculture
BSc. in Agriculture, major in Agricultural Education at the Visayas Agricultural College (Visayas State University).
Former Chief (D-1) of Extension, Education and Communication Service (7 years) of the Food and Agriculture Organization of the United Nations (FAO) in its Headquarters in Rome, Italy, Former Senior Officer (P-5) of Extension and Training (10 years) after its promotion from Program Officer (P-4) for 3 years of FAO at its Headquarters in Rome, Italy.Former UNICEF Consultant on Regional Planning in Indonesia for two years. For 20 years with FAO, he implemented or supervised agricultural extension, education and training projects in around 120 member countries and visited around 50 countries in all the continents of the world. Our most significant extension project was the establishment of the national agricultural extension service of the People's Republic of China (1983-1995) with the institutionalization of the County Agro-Technological Extension Centers(CATECs) in 85% of 2,300 counties of China from 2 pilot CATECs in 1984. In 1983, 800 million peasants (small farmers with less than 1 ha. assigned farmland) were 73% of the labor force. In 1995 the farming labor force went down to 37% and in 2000 it was down to 10%.
Former Director of Extension of UPCA, then Assistant Chancellor for Extension of UPLB; Program Leader of the UPCA/SEARCA Social Laboratory, Project Leader of UPCA/National Board of Education Barrio Development School Project, UP Professor of Agricultural Education in 1977. Left UPLB in August 1978 to join the UN Food and Agriculture Organization at its Headquarter in Rome, Italy.
His many experiences in other countries led him to come back to retire in the Philippine in 1999. He wanted to study firsthand why Filipinos are not producing products for consumers from research and why Pinoys are not going into entrepreneurship. After FAO, since 2001, he has developed new areas of expertise in development, namely: 1) product development from research knowledge (i.e.NONI juice and NONI capsules) 2) Food supplement Product commercialization (i.e. PhilNONI juice 3 variance and PhilNONI capsules), 3) Food supplement domestic marketing, 4) exporting Philippine Food Supplement, 5) Entrepreneurship – the socio-economic development contributions of Entrepreneurship. 6) Establishing and developing a profitable Filipino corporation in the Philippines, 7) An expert of Noni (Morinda citrifolia Lnn) as a food supplement for a wide range of human health conditions.

Emil Q. Javier, Ph.D.
BS Agriculture (cum laude) UP Los Baños ;
M.Sc. Agronomy, University of Illinois;
Ph.D. Plant Breeding, Cornell University
Founding Director, Institute of Plant Breeding and National Institutes of Biotechnology and Applied Microbiology, UP Los Baños
President, University of the Philippines; Chancellor, UP Los Baños
President, National Academy of Science and Technology
Minister of Science and Technology (Marcos Administration)
Chairman, Science Council, Consultative Group for International Agricultural Research (CGIAR), ROME, ITALY
Director General, Asian Vegetable Research and Development Center, TAIWAN
Senior Research Fellow, International Service for National Agricultural Research, (ISNAR), THE HAGUE, NETHERLANDS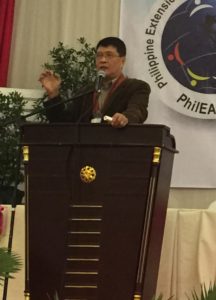 Rex L. Navarro, Ph.D.
is an international expert in development communication, agricultural extension, social marketing, social mobilization, knowledge sharing and management, development administration, and strategic planning.
Trained at the Tulane University in the USA, he holds BS and MS degrees in development communication from the University of the Philippines Los Baños and a doctorate in public administration from the University of the Philippines Diliman.
Dr. Navarro is currently engaged as a Consultant of the CGIAR Research Program on Climate Change, Agriculture and Food Security for Southeast Asia (CCAFS-SEA) hosted by the International Rice Research Institute (IRRI). He is also engaged at the Philippine Rice Research Institute (PhilRice) in strategic and research for development planning. Moreover, he is a Regent of the Cagayan State University (CSU), a member of the Board of Directors of the Asia Rice Foundation (ARF) and Philippine Agriculture Journalists, Inc. (PAJ).
He is formerly Director of Strategic Marketing and Communication at the International Crops Research Institute for the Semi-Arid Tropics (ICRISAT) based in Hyderabad, India. At ICRISAT, he led a team to raise global awareness and support for ICRISAT's work in 55 countries across the USA, Europe, Asia and sub-Saharan Africa. He also led ICRISAT's knowledge management and donor relations group.
Before joining ICRISAT, Dr. Navarro held key positions in the Philippines such as Director, Agricultural Training Institute; Director, UP Los Baños Institute of Development Communication; Program Leader/Department Manager, Technology Transfer, PhilRice; Extension Information Coordinator, Planters Products, Inc.; and Information Editor, UP Los Baños Institute of Plant Breeding.
Moreover, Dr. Navarro worked as a consultant of various international organizations like AVRDC, EU, GTZ, SEARCA and USAID in Southeast Asia (Cambodia, Indonesia, Lao PDR, Myanmar, Philippines, Thailand, and Vietnam), the South Pacific (Fiji and Papua New Guinea) and Southern Africa (Tanzania).

Benigno D. Peczon, Ph.D.
Purdue University
Management as leader or core member of group undertakings (product development, optimization in performance of the chemistry profession, large-scale local and international symposia, ISO certification and creation of enabling legislation and government instruments).
R&D in rapid chemical reactions, enzyme kinetics, basement membranes and basic medical research.
Advocacy for safe and responsible use of modern biotechnology and safeguarding of the environment.
Dolores A. Ramirez, Ph.D.
(Biochemical Genetics), Purdue University.
National Scientist
University Professor Emeritus of Genetics, University of the Philippines Los Baños.
Formerly Secretary of the UPLB College of Arts and Sciences, and Dean, UPLB Graduate School;
Spearheaded the establishment of the National Committee on Biosafety of the Philippines (NCBP) in 1988 and was its Co-Chair/Member (1990–2006) and member of the Department of Science and Technology (DOST) Biosafety committee (2006 to date).
She was Editor-in-Chief of the Philippine Agriculturist (now the Philippine Agricultural Scientist), Philippine Journal of Crop Science, and the Philippine Journal of Science.
She also served as a member of the Board of Trustees of the International Maize and Wheat Improvement Center, Chair of the External Advisory Board of the Program for Biosafety Systems of International Food Policy Research Institute (IFPRI) Vice President of the National Academy of Science and Technology Philippines (NAST-PHL).
Basilio N. delos Reyes,
BSA Major in Agricultural Engineering (University of the Philippines College of Agriculture – UPCA, 1953)
MS and Ph.D. in agricultural economics at Cornell University (1955) and North Carolina State University (1962), respectively.
– Rose from Instructor to full Professor teaching and doing research in farm management and economic statistics in the Department of Agricultural Economics (DAEcon), UPCA.
– Areas of concern in the field: People's Participation in Rural Development
– Initiated and Leader of the Farm and Home Development Project at the DAEcon, UPCA which subsequently trained agricultural extension workers in government, credit institutions and non-governmental organizations and later undertook a research project on alternative approaches to agricultural extension.
– First Head of the Office the Director of Extension Education which facilitated bringing farmers closer to UPCA and vice versa students and faculty to the farmers. Joined the team of experts from the United Nations Food and Agriculture Organization (FAO) in 1973 and worked for 17 years first in conducting the Asian Survey on Agrarian Reform and Rural Development (ASARRD) and later in implementing the Small Farmer Development Project (SFDP) in five countries in the region.